Investor Overview
Amkor Technology, Inc. is one of the world's largest providers of outsourced semiconductor packaging and test services. Founded in 1968, Amkor pioneered the outsourcing of IC packaging and test, and is now a strategic manufacturing partner for more than 250 of the world's leading semiconductor companies, foundries and electronics OEMs. Amkor's operational base includes production facilities, product development centers, and sales and support offices located in key electronics manufacturing regions in Asia, Europe and the USA.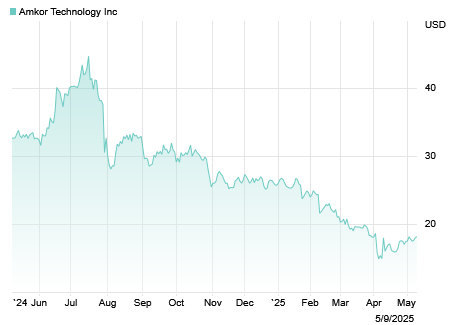 Copyright Nasdaq. Minimum 15 minutes delayed.
Investor Relations Presentations
Amkor Technology Investor Presentation - May 2018

2018 1Q Amkor Transcript

Amkor Technology Financial Information 1Q 2018

Amkor Technology Financial Information 4Q 2017
Webcasts
There are currently no events to display.